Why JETSOR Panasonic ? There are differences...
3 Reasons why you should choose Panasonic HIT™
Pioneering industries leader in the solar business for over 40 years providing heigh quality HIT™ for 17 years.
Our history started with the development of amorphous silicon solar cells by SANYO (merged into Panasonic in 2012) in 1975. Since then, we have achieved high quality and reliability levels through long experience and continuous improvement, backed by our quality figures. Our modules are designed to last for decades. Our constant efforts in research and development contributed to the production and commercialization of many innovative products.
Industry leading solar cell performance and production volume in the world
25.6%: world's heighest level cell efficiency (R&D Level) 1 billion solar cells produced.
» In 2014, Panasonic achieved world's highest cell conversion efficiency in R&D level. (>100cm²)
» In 2014, Panasonic achieved 1 billion solar cells in accumulative production.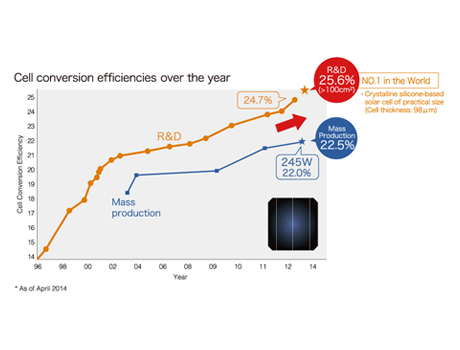 Recogrized and highly evaluated with global awards
Improving 1% of solar cell conversion efficiency takes great effort and time. Panasonic's R&D team received high international regard for breaking the world record of conversion efficiency and making contribution to clean energy society.